Biography
AARON RUDELSON (Writer/Director)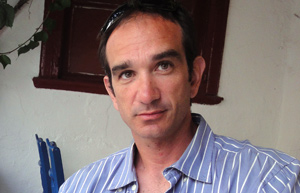 Aaron was born in London, the son of filmmakers.  His mother, Lelia Goldoni starred in Cassavetes' groundbreaking first film SHADOWS, and his father, Robert Rudelson was a screenwriter known for Russ Meyer's VIXEN among others. After completing high school in L.A., Aaron passed up an opportunity to play Division I baseball at Loyola Marymount University in order to pursue a film degree at Hampshire College.
In 1999 Aaron graduated from Columbia University's graduate film program with an MFA in screenwriting.  He recently co-wrote BREAKING THE MOLD for Maryland Public Television and has directed four shorts, edited numerous narrative and documentary features, TV pilots and webisodes and has taught screenwriting at Hampshire College in Amherst, MA.
In 1997, Aaron was the recipient of the 1997 Milos Forman award for his screenplay THE FILE ROOM and recently won the spring 2012 Award of Excellence from the Best Shorts Competition in the category of humor. Aaron has received accolades from prominent industry figures such as former Dreamworks executive Bob Cooper and indie mogul Roger Corman for his comedic filmmaking in the short, THE MALADY. In addition to his off-camera work, Aaron has played roles in two independent feature films, including SHOW ME THE ALIENS as well as shorts, promos and stage productions in New York and Los Angeles. He currently resides in Brooklyn, NY with his wife Rebecca and their daughter, Lily.
Filmography
Directing
View Directing Work
Monkeyboy – HD, Short
What to Expect… – HD, Short
Foodie – HD, Short
The Malady – 16mm, Short
The Marsh – 16mm, Short
Tristan  – 16mm, Featurette
In Development
Norman Pinski Come Home – Feature (in development with Slew Pictures Inc.)
Attack of the Man Eating Sewer Slug – Feature (in development with Flat Planet Films)
Editing
View Editing Work
Funtastix – Web Series, Director Russell Pflueger, Executive Producer Rob Riggle
In Mya's Opinion – TV Pilot, Director Tennille Patterson
Fat Girls Can't Dance – Short, Director Beth Cannon
Sexcut – Short, Director Dave Broitman
Skaller for City Council – Political Spot, Friends of Josh Skaller
Genius on the Wrong Coast – Feature Documentary, Director Lelia Goldoni
Sister Sessions – 35mm Feature, Director Florante Galvez
Acting (screen)
Foodie – Dave
Zombie Barbecue – Zombie
Show me the Aliens – Mr. Borscht
Snakes and Arrows – Big Walker
The Janitor – Janitor
The Malady – Mr. Borschnin
Acting (stage)
27 Wagons Full of Cotton – Silva Vicarro
Siren Song of Stephen Jay Gould – Man
AWARDS
1997 Milos Forman Screenwriting Award Recipient
2012 Best Shorts Award of Excellence in Humor
2012 Accolade Competition Award of Merit in Humor
2012 Iron Mule Audience Award
2012 Best Comedy Short Nomination Central Florida Film Festival